It's been 111 days since Hollywood writers put down their pens and 38 days since actors joined them, both guilds striking in the hopes of building a fairer industry for today and the many days ahead. While there have been recent signs of potential progress (especially for writers with the WGA set for another vital meeting this week), the situation remains without any clear endpoint and as the days pile up, so does the wreckage.
Major movie productions, from Gladiator 2 to Deadpool 3, have been forced into a pause, with mounting costs for studios and a loss of income for those working on them. Much-anticipated new films, from Zendaya-led drama Challengers to Marvel adventure Kraven the Hunter, were pushed off their 2023 release dates into the new year. New seasons of TV shows, such as Amazon's queer spin on A League of Their Own, were cancelled, while plans for others, such as Apple's $188m take on Metropolis, were binned entirely.
While the Barbenheimer juggernaut continues (the two films are set to cross $2bn in joint ticket sales this week), other films have struggled at the box office. The strike has meant that actors have been unable to engage with the regular interview circuit, meaning that a major component of a film's awareness campaign has been decimated. Last week, the Hollywood Reporter estimated that the box office for Teenage Mutant Ninja Turtles: Mutant Mayhem has been hit by up to 15% with stars such as Seth Rogen, Jackie Chan, Maya Rudolph and Ice Cube unable to appear at the premiere, speak to journalists or appear on late-night shows (which are all still on hiatus without writers able to work). This weekend also saw Universal's foul-mouthed dog comedy Strays sputter out, tracking to make up to $20m for the weekend but crashing with just $8m, with stars Will Ferrell and Jamie Foxx muzzled (the latter unable to utilise his 16.8 million Instagram followers). DC's Blue Beetle also saw the company's worst ever opening over the weekend and while the film was short on A-listers, it's likely that a promotional bump would have helped raise its profile.
Network schedules for the upcoming season have also seen a substantial rehaul with hit shows such as Grey's Anatomy and NCIS delayed indefinitely and instead, game shows such as the David Spade-hosted Snake Oil and reality shows such as Bachelor in Paradise and Kitchen Nightmares taking the primetime slots. Some networks have also chosen to pay for imports instead, like the UK version of Ghosts, or moved cable or streaming dramas over, like Ms Marvel and Yellowstone. With this summer seeing linear TV viewing dropping to a new low, it's a disastrous prospect for networks, unable to build on recent successes such as Abbott Elementary and Fire Country.
The end of the summer is also the start of the all-important fall festival season, where starry films get unveiled around the world aiming for critical adoration leading to awards recognition. It all begins with the Venice film festival on 30 August, the starting point for major contenders in the past such as Gravity, A Star is Born, Dune and Birdman. The quality of this year's line-up was briefly in question (Luca Guadagnino's tennis romance Challengers was set to open but was pulled once the actors' strike began) but does now, to the relief of many, look to be as robust as ever with new films from David Fincher, Michael Mann, Yorgos Lanthimos, Sofia Coppola and Bradley Cooper. Yet whatever attention the festival usually receives will likely be muted with stars such as Michael Fassbender, Emma Stone and Carey Mulligan unable to attend, glitzy premiere pictures in short supply. Given that the directors guild remains strike-free, column inches might be taken up by the appearance of Roman Polanski and Woody Allen, whose latest films are controversial inclusions.
Given that it was made by an independent company rather then a studio, Mann's motoring drama Ferrari has received a waiver from Sag-aftra that would allow stars Adam Driver and Penelope Cruz to appear at both Venice and the New York film festival, where it's nabbed the closing night slot, but questions remain over whether the actors will be too, understandably, concerned about optics to attend. Various productions outside of the studio and streamer system have also been granted waivers allowing them to proceed, such as David Lowery's pop star drama Mother Mary starring Anne Hathaway, but some stars have still chosen not to participate. Viola Davis's action thriller G20 was given permission to continue production but the actor still decided against, saying in a statement that she didn't feel it "would be appropriate" to carry on.
Concurrently with Venice, the Telluride film festival will take place, its lineup still a secret, followed by Toronto, the biggest in size of them all. While this year's set of films include Emily Blunt, Kate Winslet, Scarlett Johansson and Olivia Colman, it's unlikely many big names will appear, despite some films technically allowing for it (this year has more sales titles without studio attachment).
While Warner Bros Discovery CEO David Zaslav has claimed in the short-term the strike has actually saved the company $100m in second quarter operating costs, the WGA has calculated that the strike is costing California's economy an estimated $30m a day (the last writers' strike in 2007-2008 reportedly cost over $2bn for the state and CNBC reports that if the strikes go on until October, the number could go past $5bn). The demands set forth by the guild, which include improved streaming residuals and a more concrete form of protection against artificial intelligence, are estimated to cost the industry a relatively modest $429m a year, considerably less than the culmination of shuttered sets (Variety reports that soundstages, used on major productions like Gladiator 2, cost up to $600,000 a week to retain), reduced box office and the impact to advertising revenue (in July, brand spending on new viewing content fell by 21%, the lowest since the pandemic).
Back in July, three days before the actors strike was official, Deadline quoted an unnamed studio source who said that the plan was for writers to "start losing their apartments and losing their houses", a statement that led to widespread anger within the industry and one that was used earlier this month by actor Billy Porter who claims to have lost his house over a lack of income caused by the strike. "The life of an artist, until you make fuck-you money – which I haven't made yet – is still check-to-check," he said. "… to the person who said, 'We're going to starve them out until they have to sell their apartments' – you've already starved me out." This week, the Hollywood Reporter also reported on a rise in mental health concerns among those on strike.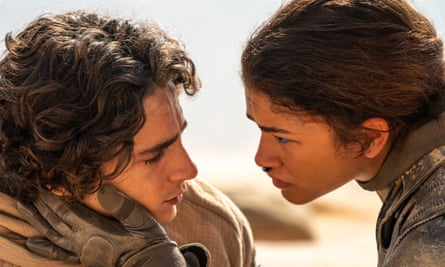 So what's next? If the studios still refuse to make necessary compromises, the industry could be facing a particularly cold end to the year. Rumours have already circulated suggesting that star-led films such as Dune 2 and Aquaman 2 (big-budget sequels which rely on the celebrity of stars such as Timothee Chalamet, Jason Momoa and Zendaya) could be next to move off their release dates, following up the success of Barbenheimer with a tentpole-lacking few months. An actor-free awards season will also mean the gutting of an entire industry of its own with no roundtables, events or campaigning of any sort, something that purists might welcome, but financial sway will still win out regardless with visibility being awarded to whichever studio has the most money to spend on the most adverts. The Television Academy has already pushed this September's Emmy awards to next year in hopes that by then, a lifting of the strike will allow for stars to both campaign publicly and to appear at the ceremony (the end of the writers' strike would also allow for a slick, scripted evening).
A recent poll showed that around 67% of Americans support the strikes with a growing number also feeling less favourably towards the studios when learning about the details, a worrying result for companies leaning more and more on brand awareness, creating streaming services based on attachment to Paramount or Disney etc. As more films are delayed and shows are canceled then the streamers and networks will also find it harder to sustain subscribers, already stretched with too many services to choose from (in June, research suggested that Americans are using fewer services than in the year prior).
While, sadly, the below-the-line damage caused is unlikely to have had much of a reaction from the higher ups, the bigger and closer it gets, the more they're likely to take it seriously. In May, Bernie Sanders tweeted that in 2022, eight Hollywood CEOs made nearly $800m as pay for TV writers has fallen by 23% over the last decade. Recent quarterly earnings reports showed that some execs are starting to feel the squeeze in strike era Hollywood, a surer sign than most that those at the top will be more energised to see this come to an end.