Lucy Bronze and Ona Batlle held each other. One in defeat and one in victory, one with a medal she wanted and one with a medal she did not. But in that moment they were not rivals or adversaries, just Lucy and Ona: friends, soulmates, former Manchester residents, and in very short order teammates at Barcelona.
And as both sets of players embraced after Sunday's draining final, there was more than a degree of familiarity between them. Bronze has been joined by Keira Walsh at Barcelona, who provided eight of Spain's finalists. Hannah Hampton grew up in Spain and spent part of her childhood in the Villarreal academy. Batlle has just spent three years at Manchester United playing with the likes of Katie Zelem, Ella Toone and Mary Earps.
As the curtain comes down on a month-long feast of football, this is in many ways the broader story of this World Cup: the most global and connected tournament that has taken place in women's football. There may have been 32 nations taking part but in reality their players were representing more than 40 league systems around the world, from Kazakhstan to Iceland, Ecuador to Saudi Arabia. This cultural cross-pollination, an unprecedented movement of players across national borders, taking their styles and influences with them, has helped to contribute to perhaps the richest and certainly the most unpredictable World Cup in memory.
This is a phenomenon that works in many directions. Open borders mean fewer secrets: where once a group game against Haiti might have been a step into the unknown, England's analysts had ample footage of their prospective opponents from the 14 of them who ply their trade in France. But it also allows players from emerging nations to hone their skills at a higher level: Colombia's irresistible adaptability was forged not just at home but in Spain and the United States, where 14 of them have played. The Nigeria squad that ran England so close are employed on four continents.
Drill down into the data a little, however, and a more specific theme emerges. The dominance of the United States in women's football, both as a national team and as an intellectual influence, is clearly in decline. Three of the four semi-finalists here were European (Spain, England and Sweden), and of Australia's 23-player squad 19 play their football in Europe. For the first time, the most represented country in terms of club affiliation was not America but England, which hosts 106 of the players who went to this tournament.
There was a time, not so long ago, when the ultimate goal for a young female footballer was to play in the United States. The enactment of Title IX in the 1970s, enshrining gender equality in education, led to an unprecedented investment in girls' sport at school and college level. No other country on earth could compete (unless they really wanted to, which very few of them did). As the women's game grew in scope, the finest talents – including many of England's best and brightest – migrated to America.
But over recent years that first-mover advantage has gradually been eroding. No longer is it possible for the US to cherry-pick the finest young footballers from around the world with the promise of college scholarships, unrivalled training facilities and 24-hour waffles. These days its talent pool is overwhelmingly drawn from the Americas. One of the tournament's more alarming stats is that of the 10 nations with the highest US representation – as in, the most number of players playing in the US system – none of them made it past the round of 16.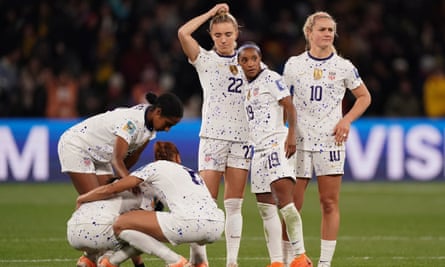 So what happened? In part the US system has been a victim of its own success: the rapid commercialisation of women's football has been reflected in its talent development, with various pathways competing for the best players, and thus putting revenue generation, results and branding above the ideal of equipping young players with essential skills. Spiralling costs are pushing low-income families out of the game. Participation at grassroots level is actually falling. At the most recent Under-20 World Cups in 2018 and 2022, the US failed to negotiate the group stage.
But to every action there is an equal and opposite reaction. In short: Europe happened. The rise of the European superclubs, earning huge progress for a fraction of the investment they put into their men's teams, has raised the tactical, technical and scientific bar to previously undreamed level. Bronze remembers playing in training games at Barcelona and being stunned by the "clones and clones and clones of these amazing, technical, intelligent players". Spain's triumph was forged not by the cloven hooves of Jorge Vilda or the wandering hands of Luis Rubiales, but on the training pitches of La Masia and Valdebebas, the home of a Real Madrid team that didn't even exist five years ago.
Perhaps it is fitting, then, that the two teams who contested this year's final are the countries who have gone the furthest in the industrialisation of youth talent. And other nations have benefited from the same process: 16 of Nigeria's squad play in Europe. So too 13 of the Morocco squad who became the first Arab nation to reach the knockout stages. Most of Sweden's best players play in Liga F or the WSL. As more men's clubs begin to unlock the potential of women's football – Paris Saint-Germain, Manchester United, Juventus – the opportunities for talented players from developing nations will only increase.
Up to a certain point, of course. Spanish investment may currently have fringe benefits for the Colombian national team, but it is a poor substitute for genuine investment in Colombian academies, Colombian schools and Colombian grassroots facilities. In the long run it is easy to glimpse a future in which European football essentially becomes the only show in town, in the same way America once was: warping the global market, helping itself to the pick of the world's best players, and becoming progressively stronger as a result.
And so while it is tempting to see football's new global order as merely a beginning, to an extent it is also an end. The fact that Spain won the World Cup in a state of utter dysfunction, without Mapi León or Clàudia Pina and with a peripheral Alexia Putellas, is a devastating show of strength. Their Under-20s reached the World Cup final in 2018 and 2022. From 2003 to 2018 the number of registered female players in Spain quadrupled. Real Madrid and Barcelona are two of the biggest clubs in the world. Morocco, Nigeria, Jamaica, Colombia: well done and everything, but good luck competing with that.